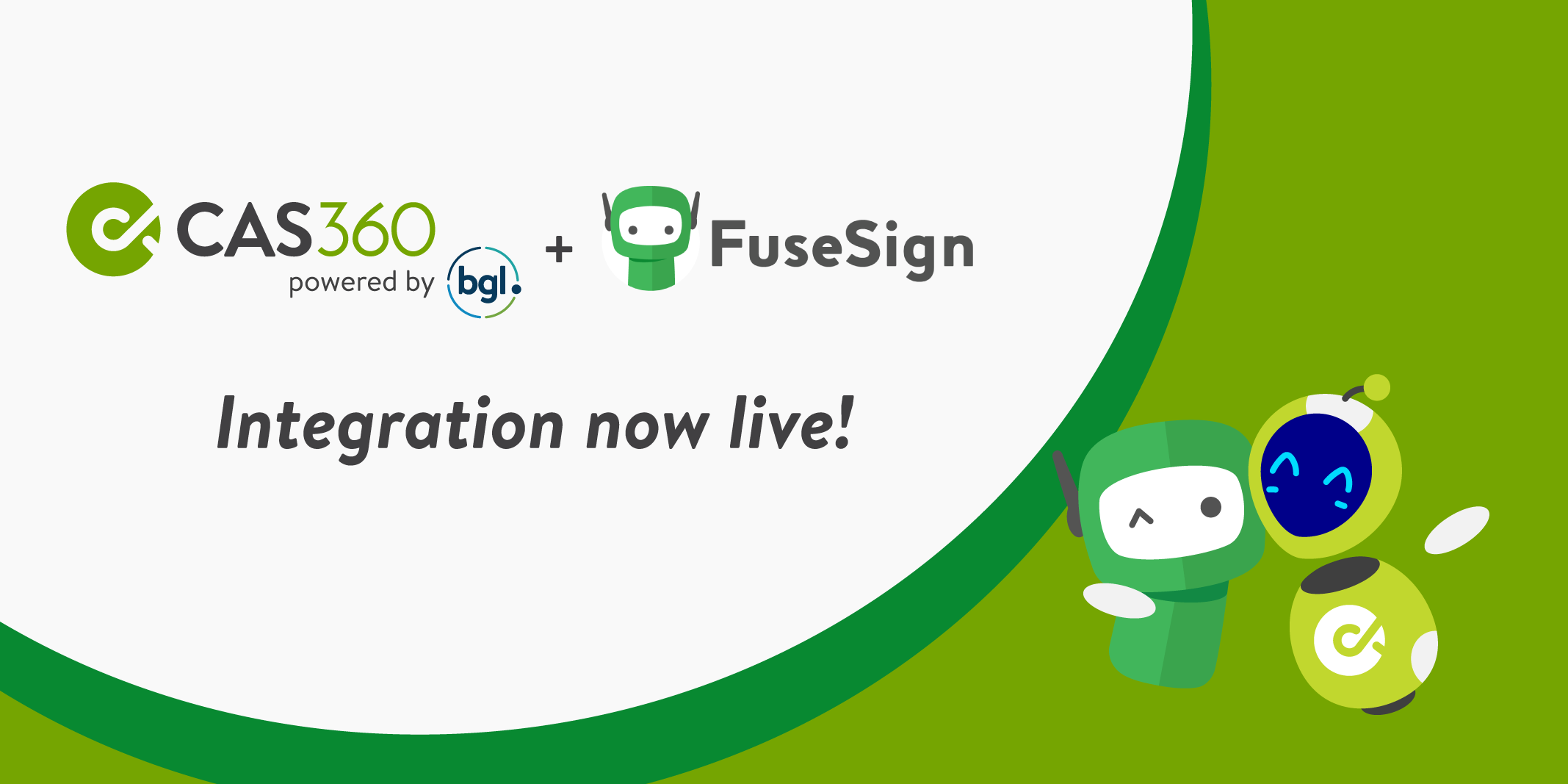 Digital Signing, Electronic Signing, Electronic Signature, Company Compliance, Corporate Compliance, Companies, Trust Administration, Trust Management, Trusts
BGL is proud to announce CAS 360 is now integrated with digital signing tool FuseSign by FuseWorks.
"It's great to add FuseSign to the BGL Ecosystem" said Ron Lesh, BGL's Managing Director. "FuseSign creates a seamless workflow for CAS 360 clients so that all company and trust documents can be digitally signed, speeding up the compliance process and reducing signing times to minutes rather than days for the price of a stamp.
Melissa Voss, Co-Founder and Head of Clients and Partners at FuseWorks, said: "We're thrilled with this partnership and to be able to offer CAS 360 clients with our Digital Signing tool straight from their platform. I am passionate about automation and helping Accountants to simplify the day-to-day, removing inefficiencies through the power of automation so they can focus on more human tasks, and that is exactly what FuseSign does, it gives your clients a better experience with your brand, saves your business time and money, and it empowers your team to focus on tasks they really enjoy."
Made for accountants by accountants, FuseSign is an affordable, intuitive and easy to use Digital Signing tool and can be used for all company and trust documents prepared by CAS 360. Recent legislative changes have now made it possible to sign more document types digitally than ever before. The FuseSign process in BGL applications provides a seamless workflow for clients. And recent evaluations of digital signing solutions have proven documents are signed quicker, easier and with much less friction when digital signing solutions are used.
For more information about this sensational integration, visit www.fusesign.com/bgl 
About FuseSign
Digital Signing, Electronic Signing, Electronic Signature, Company Compliance, Corporate Compliance, Companies, Trust Administration, Trust Management, Trusts