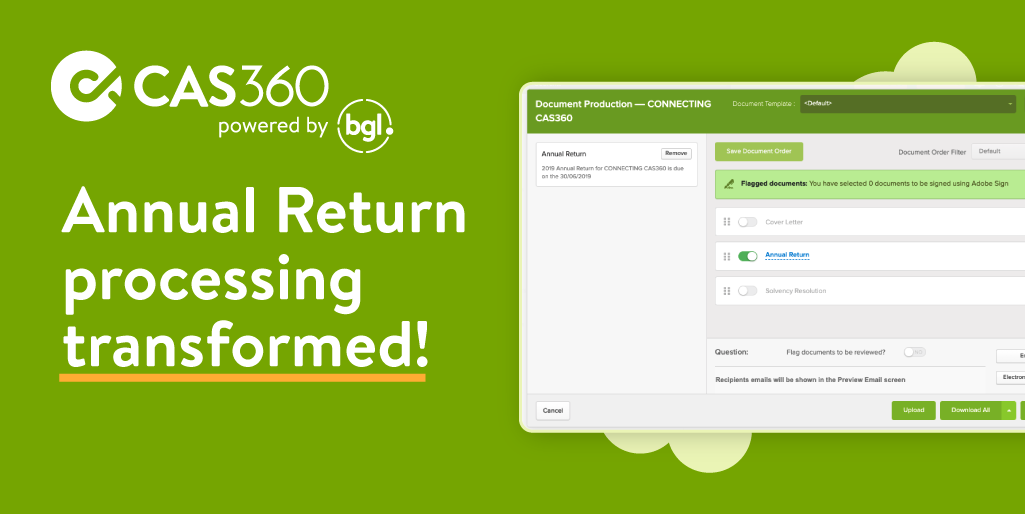 In today's blog, we are going to show you how CAS 360 will transform the way you are processing your Annual Returns. CAS 360 can complete your Annual Return processing in 30 seconds per company. For a firm that has 200-300 company returns to do per year, this is going to be an enormous saving. Speaking of savings, CAS 360 can also save you $3 on the filing fee per company.
Automated comparison with Companies Office
CAS 360 automatically compares the data you have for the company and compares it with the Companies Office to ensure there is accuracy, BEFORE sending the documents to your client.
Prepare the document pack for your client
Prepare all the documents you need for the Annual Return; you can even upload your firm's templates and include your firm's invoice.
Then email or PDF export the documents to deliver to them to your clients. CAS 360 also allows for integrations with DocuSign and Adobe Sign, giving you a completely automated end-to-end solution (including a real-time notification when the document is signed).
Annual Return filing
Once your client has signed the Annual Return, you can then click on 'Lodge' and file the Annual Return with the Companies Office from within CAS 360. And you also get a $3 discount on the filing fee because you filed in CAS 360.
Watch our video to see this incredible feature in action!