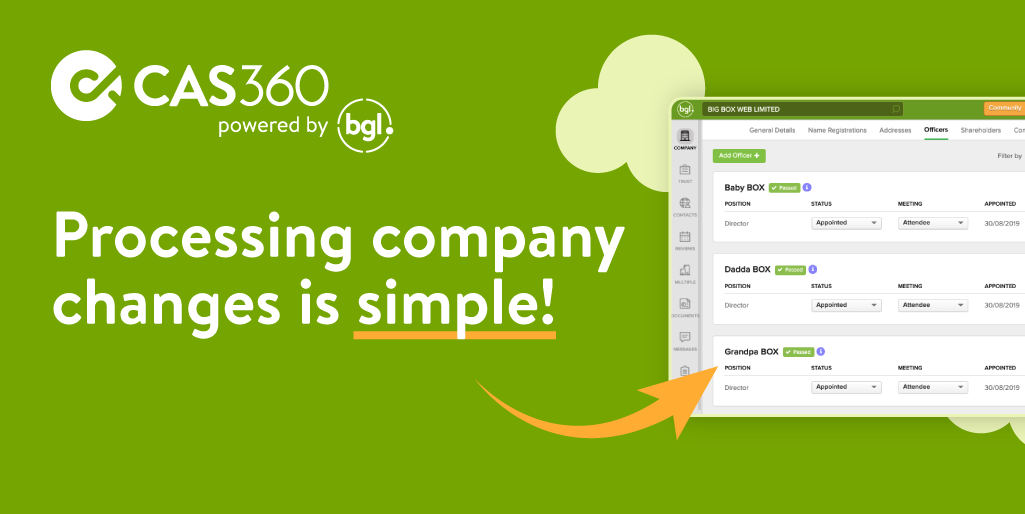 In last week's blog, we showed you how CAS 360 would transform the way you process Annual Returns. Today, we will show you how simple it is to complete Company Changes from within CAS 360.
Simple process for Company Changes
CAS 360 is home to all your company data, and CAS 360 integrates with the Companies Office website, allowing you to make changes very quickly to your client company data.
Transactions such as a change of officer, when using CAS 360, are completed in seconds, not minutes.
Detailed Supporting Documents
CAS 360 will prepare all the documents required for each transaction; this includes maintaining all your company registers, minutes, resolutions, certificates and consents.
You will no longer be manually finding – and updating – documents in MS Word. With CAS 360, we do this for you.
Digital Signing Integration
CAS 360 has built-in integrations with Adobe Sign and DocuSign, allowing your clients to sign the documents you send them; wherever they are and notify you in real-time when complete.
Best of all, the Companies Office has approved our digital signing integrations.
Direct Filing with Companies Office
With CAS 360, company changes can be filed directly from our software, giving you Instant filing at the click of a button.
Say goodbye to the Companies Office website.
Watch our video to see this incredible feature in action!