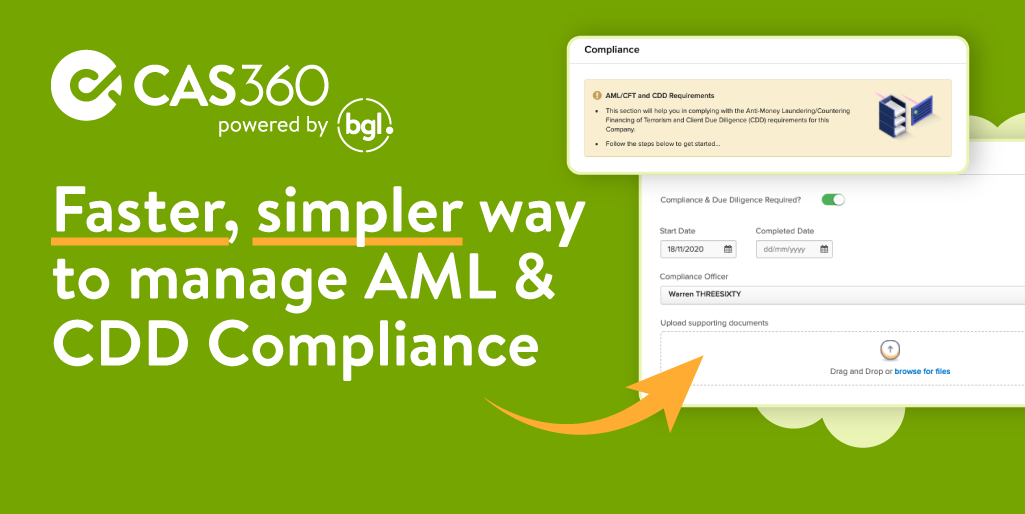 What is AML/CFT & CDD Compliance?
As you would be aware, the Anti-Money Laundering and Countering Financing of Terrorism Act 2009 (AML/CFT Act) places obligations on New Zealand's accountants, bookkeepers and tax agents (among other reporting entities) to detect and deter money laundering and terrorism financing. Click here to learn more >>>
The Act requires businesses / reporting entities to:
Conduct a

Risk Assessment

of the money laundering and financing of terrorism that they could expect in the course of running their business.

Develop an

AML/CFT Programme

that includes procedures to detect, deter, manage and mitigate money laundering and the financing of terrorism.

Appoint a

Compliance Officer

to administer and maintain their AML/CFT programme.

Conduct

Customer Due Diligence (CDD)

processes including customer identification and verification of identity.

Keep Records

of suspicious activities, the documents verifying the identities of customers and other parties or beneficiaries, and any other related records that may be of interest to the supervisor.

Submit an annual report

and

audit their risk assessment and compliance programme

every two years.
How can CAS 360 help?
CAS 360 is an innovative, cloud-based software solution for streamlining Company Compliance, Trust & AML management.
With its powerful automation features and direct integration with the New Zealand Companies Office, CAS 360 will help you to manage all the AML/CDD requirements quickly and easily for your clients' companies.
A complete compliance workflow

Automated AML checks and alerts 

The ability to store contact CDD documentation

Plus, AML/CDD reporting
CAS 360's complete compliance workflow!
The Company Compliance screen in CAS 360 provides you with a quick and easy navigation panel to guide you through the AML/CDD Compliance Workflow. Click here to learn more >>>
Step 1. Record CDD requirement. 
Here, you are able to record the CDD start date and Compliance Officer details.
Step 2. Record Nature of Business Relationship. 
Here, you are able to record the Nature of the Business Relationship with the Entity.
Step 3. View all Directors and Shareholders linked to the company. 
Here, you are able to:
Record PEP and Source of Funds Requirements

Upload supporting documents (scanned and sighted documents etc)
Soon, you will also be able to:
Request additional information from contacts at a click of a button

(feature coming soon)

Verify Identity details at the click of a button

(feature coming soon)
Step 4. Record Risk Assessment of the Entity 
Here, you are able to record and rate your risk assessment of the entity.
Step 5. Final Risk Review.
Watch our video to see this incredible feature in action!