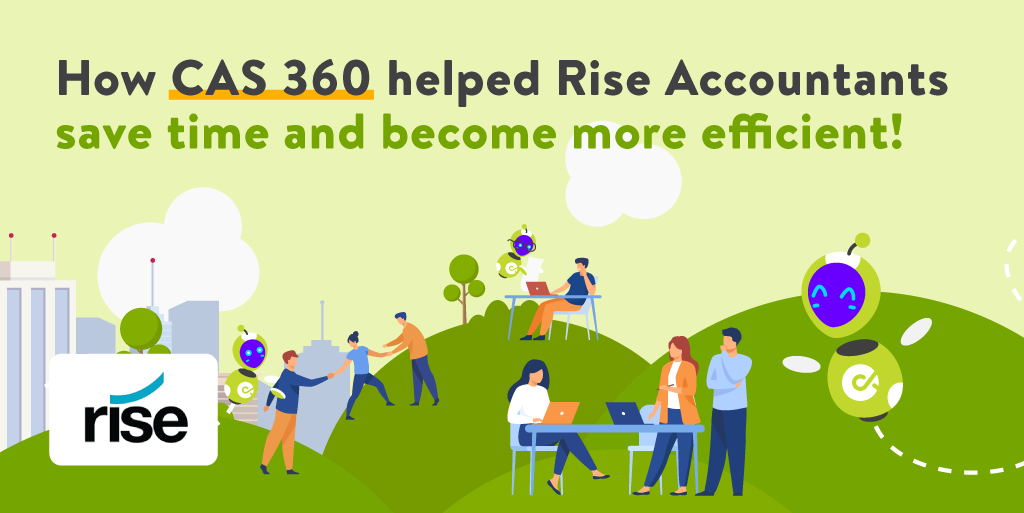 "CAS 360 functionalities certainly helped us improve our engagement with clients and increase efficiency and productivity
About Rise Accountants
Founded in 2002 by Bill Mancer, Rise Accountants is a passionate and innovative Chartered Accountancy Firm based in Auckland, New Zealand, helping business owners achieve their dreams.
Currently, with a team of six, Rise Accountants services include bookkeeping, payroll and GST for nearly 500 clients. As a satisfied CAS 360 user, Bill – Rise Accountants Director – wanted to share his experience with us, so other practices can learn about the key benefits CAS 360 brought to his firm.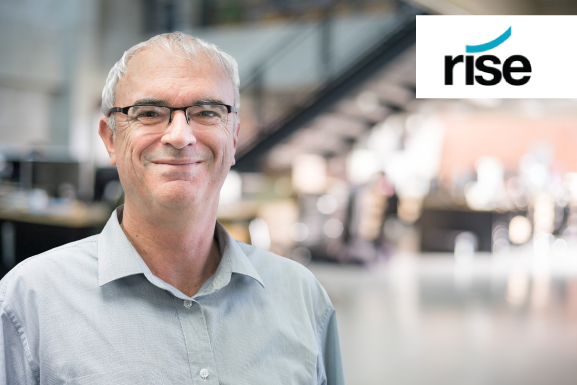 The challenge
Lack of integration and relevant features offered by the previous provider
Rise Accountants is a cloud-based firm that uses quite a number of apps, requiring a great level of integration. Before using CAS 360, Bill had to spend a significant amount of time manually updating data from one app to another due to the lack of integration in the compliance product used within the firm.
That, aligned with the unique innovative features available in CAS 360, would allow Rise Accountants to significantly save time, streamline processes and enhance their customer experience – resulting in an important increase in efficiency to the business and overall improvement in customer experience.
"The lack of integration offered by the previous provider and the rise of a new platform (CAS 360), made us see an opportunity to do things better, more efficiently. The high level of integration and customisation played an important role in our decision. The client experience was also an improvement over what we previously had and helped push us in the direction of wanting to make the change."
"Now clients can quite easily see documents sent to them. We can also seamlessly capture the records they have approved or agreed to in the forms. The SMS and email reminders for following up with them is another excellent functionality in CAS 360 and an improvement from what we had in the past – we can now customise the messages that go out and sort of design it in a way that comes across positively rather than just a chore."
Why CAS 360
Cloud-based solution with higher level of integrations
"As far as the industry goes, everything is going very much online. So, our next platform had to be an online module with a high level of integrations, as previously mentioned. We wanted a software where you can just update the information in one place, and it flows through to other apps and so on. That sort of functionality was becoming more and more critical."
"Customer experience was also important, if that's not going well it doesn't work quite so well for us. Integration with the Companies Office was a strong requirement, it wasn't optional. Ease of use, good alert system. Obviously, integration with the document management system that we've got was a plus, as we do like to see all of our documents sitting in one place."
"It all makes CAS 360 good value for money and represents an opportunity to do things better."
The solution
Move to an innovative and complete Company, Trust & AML management software
When using another solution, Rise Accountants found themselves with an excess of unnecessary data entry due to the lack of integrations, and inefficient processes due to the lack of features.
The solution was to then move to a more robust and innovative Company, Trust & AML management software, and that meant implementing CAS 360.
While the idea of implementing a new system can strike dread into the hearts of many, it doesn't have to be painful. Rise Accountants with the support of the BGL team had it done quickly and nicely.
"The BGL team was really helpful and the implementation process was also quite easy. We simply came up with a list of companies that needed to be imported, and then we simply got to work with sending out notices and that sort of thing. It was a very easy process to go through overall."
With CAS 360, the user's daily activities and routine is streamlined by connecting and integrating directly with the Companies Office and industry-leading apps such as Xero Practice Manager, FYI Docs, Adobe Sign, and DocuSign.
Tracking Annual Return documents and deadlines is another hugely important part of any accounting firm's day-to-day, and it's crucial that the software gets it right. With CAS 360, Bill and his business benefit from daily automated smart alerts to manage Annual Return dates and document deadlines.
"Even though I'm not the one who's doing the work from the day-to-day perspective, I can say CAS 360 smart alerts is a timesaving feature. It just makes it very clear as to what information you need to take action on right away without having to shift through and search for a company to then figure out where they're at. It's just there, presented to you."
"Even just this morning, I looked on there and I kind of thought, "Now hang on, we've got a number there that haven't been filed. Should these ones even still be registered with the Companies Office?" It didn't take long to work through and say, "Okay, we need to have a project underway here to actually finalise the move of a number of these companies." It was just the way the alert system worked; it just draws your eye to which entities are needing some action."
The result
Ease of use, good alert system and integration with the document management system
Bill and his team are very happy and satisfied with CAS 360's usability.
Firstly, because of how it integrates efficiently with apps he uses, which is time-saving and simplifying. "The integration into our existing systems made CAS 360 stand out. It certainly was offering features that our older software wasn't".
CAS 360 has fit very well into the business needs because of its unique features that make the users' lives easier and increases efficiency, such as the unlimited customisation (allowing users to quickly and easily customise Word documents and templates, from plain text to HTML, with firm's logo and unique branding style), the hands-off approach to the Companies Office Annual Return process, and the smart alerts to manage Annual Return due dates, document deadlines, and much more.
"CAS 360 functionalities certainly helped us improve our engagement with clients and increase efficiency and productivity. Smart alerts reduced the time we spent tracking due dates and deadlines. And the SMS/email reminder certainly, from my perspective, provided us with greater engagement with clients. So, is that a time saver? Well, only from the perspective of not letting something fall through the gaps and needing to deal with it later."
Secondly, apart from all the great features CAS 360 has to ease administrative burden, it is really easy to implement and, most importantly, to use. "The BGL team was really helpful, and the software was really easy to implement. It's also easy to use. The team and I can easily see companies' status, track deadlines and action where needed."
Last but not least, because of the BGL customer service. "They've been really helpful. Our Sales Rep, Jason Armishaw, has been in regular contact with us and made important recommendations for ways that we can make the most out of the software. While at the outset, when I'd first looked into the product, I was aware that it could integrate into XPM and FYI Docs. I hadn't really put the integrations into place. Jason picked up on that and said, "Well, look, this is what you need to do. Here're the links, here's how you are going to do it." We then had that achieved without too much difficulty at all."
"For us, the key takeaway of implementing CAS 360 in our firm is that good customer experience is achievable. So sometimes you might feel that you're trapped into one particular app or solution, but it always pays to just keep your eye out because there are just so many new things coming out these days that can make the experience a whole lot better. Transitioning these days is not the huge task that it used to be, historically. And it really pays off when you see the results in your daily tasks."