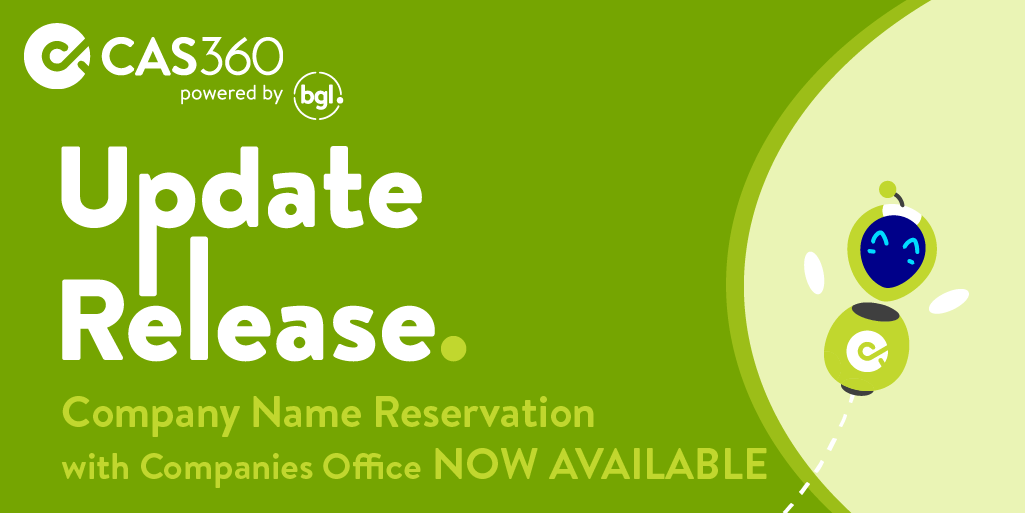 We are excited to announce the first CAS 360 update of 2022! You can read the full release notes on the BGL Community >>>
What's new?
Company Name Reservations: CAS 360 now supports Company Name Reservations with the Companies Office including the ability to:
Check name availability

Prepare Name Reservations

Lodge Name Reservations with Companies Office

Prepare and customise Name Reservations documents
Plus, CAS 360 will provide users with daily automatic checks of Name Reservation Status.
Māori Character Support: CAS 360 data entry and all documents and reports now support Māori characters. In addition, Companies Office Form 9 and the Health Check and Comparison Report also support Māori characters.
Notifications: The performance of the Notifications and Inbox screens in CAS 360 have been improved. Users can also now prepare a Notifications report from the Inbox screen.
User Interface Improvements: The user interface for the Import Company and Compare Company screens have been improved for greater consistency, providing users with a better experience!
Plus, many more features and improvements. Don't forget to check out the full release notes on the BGL Community >>>